I'll be teaching cello along with Elsie Gawler for the weekend camp. See the website for all the details! www.mainefiddlecamp.org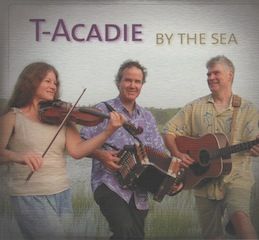 T-Acadie: By the Sea
The newest CD, with T-Acadie bandmates Bill Olson and Jim Joseph! This is a sampling of everything we do, but focusing on the music we play at our weekly resort gigs on the coast of Maine. Sea shanties, Acadian, Quebecois and old-time tune sets, New England folk songs, and a Cajun waltz & 2-step to close out the evening.
Winter Carnival/Reel Phanney/Cap Chat * Roll the Woodpile Down * Sunny Road * Sam's Gone Away * Fiddler's Green * Little Burnt Potato/Marche des Geants/La Maison de Glace * Big House, Middle House, Back House, Barn * The Saucy Arabella * Salt River/Waiting for Nancy/Dusty Miller * A Sailor's Prayer * More Wood * One More Day * La Bonne Vie/Au Bord du Bayou
Buy direct from me using PayPal!
_

The Trestle Bridge
On this 2002 recording of dulcimer instrumentals, Pam plays Appalachian dulcimer, fiddle, guitar, and flute. She is joined by Jumbol'ayuh and T-Acadie members Bill Olson, Jim Joseph, and Jumbol'ayuh percussionist Keith Garavoy, as well as by Turkey Hollow members Dave Rowe and Denny Breau. The dulcimer on this recording is cherry and butternut (pictured above) and was made by Jeremy Seeger.
* Coleman's March/Over the Waterfall/Spotted Pony * My Darling Asleep/Jackson's Morning Brush * Swinging on a Gate/Blueberry Mountain Reel * Lucky Lady/Cats on the Ceiling * Midnight on the Water * The Silver Thaw/Cold Frost Morning/Kitchen Girl * Sally in the Garden/The Strayaway Child * Spring Sparrows/The Cats & the Fiddles * Reel des Jeune Maries/Payes de Haut * Schottis after Timas Hans i Ore * The Trestle Bridge
Buy direct from me using Paypal!

Waiting for the Perseids
This 1999 all-instrumental album particularly features Pam's fiddling and includes many of her own compositions that evoke images of the beauty of rural Maine. On this recording Pam also plays Appalachian dulcimer, mandolin, and viola. and is joined by members of Scrod Pudding, Lorraine and Bennett Hammond, David Kaynor, Tom Rowe, and Doreen Conboy. The dulcimer is a walnut and redwood "Swan", made by Dwain Wilder.
* Richard's Jig/Cuhl Aodh/Reunion Jig * Ducks on the Pond/Cattle in the Cane/Billy in the Lowground * The Road to Sebec/Tim's Cove * Waiting for the Perseids * Dan the Cobbler/Brandy's Trip Up Tumbledown/The Merry-go-round * The 32nd of August/Payes de Haut/Pat the Budgie * Trollspolska * Sebec Lake Waltz * The Silver Spire/Leather Britches/Julianne Johnson * Kat's Waltz/Summer on Marshall Pond * The Rose in the Heather/The Hungry Rocks/Geese in the Cloverleaf * Tumbledown Switchback/JohnBrain's/Hunter House * Charlotte's Waltz
Buy direct from me using Paypal!

Food for Your Feet
This release from 1995 features traditional and contemporary dance tunes from French Canada, the British Isles, New England, and Appalachia plus a few of our favorite songs. Pam Weeks (fiddle, mountain dulcimer, vocals), Jim Joseph (banjo, accordion, percussion, vocals), Bill Olson (bass, vocals), Greg Anderson (hammered dulcimer, vocals), and Eric Weest Johnson (guitar, vocals). Scrod Pudding still has a 3rd Saturday contradance at the Bowdoinham Town Hall in Bowdoinham, Maine, and performs around the New England area. 

"Their sound is infectious and authentic; you really can't keep your feet still listening to it." - Dulcimer Player News
*Glencolumkille/Sheehan's Reel/The Merry Blacksmith * Little Streams of Whiskey * Swing Away/Mackilmoyle's Reel/Golden Wedding Reel * Flying Cloud Cotillion/Ships Are Sailing/Tour of Puget Sound * Wild Rose of the Mountain * Reel des Jeunes Maries/Eskimo Reel/Ice on the Pond * Hommage a Philippe Bruneau * Magpie/Rock the Cradle Joe/Growlin' Old Man, Grumblin' Old Woman * Far From Home/John Howatt's Reel/Spootiskerry/ * Eight More Miles to Louisville/Dinah * Lady of the Lakes 1,2, & 3 * Star Quadrille/Indian Point * Washington's March
Buy direct from me using Paypal!