Previous events
I'll be teaching cello along with Elsie Gawler for the weekend camp. See the website for all the details! www.mainefiddlecamp.org
(EST, UTC-05) (EST, UTC-05)
Pam will be the featured artist, performing Blackberry Winter (Connie Ellison) for mountain dulcimer and string orchestra. There will be 2 other pieces as part of the program, a word premier by Jessica Meyer, and the Firebird Suite by Igor Stravinsky.
In-person tickets are $15-$40; on-line streaming ($40) is available for 2 weeks after the concert.
(EST, UTC-05) (EST, UTC-05)
It's Tuesday, and it's Mardi Gras! In place of our usual Mini-concert/Jam session we (T-Acadie) are offering a Cajun music concert/session with our friend Mitch Reed. Originally from Scott, LA, Mitch has played with many Cajun bands, including Charivari and Beausoleil. Mitch moved to Maine a few years ago, and we are thrilled that he can join us for Mardi Gras!
You can join us by going to Pam's FB page (www.facebook.com/pam.weeks.73). If you don't see the video right away, scroll down to the news feed and it should be the top post.
NOTE THE TIME CHANGE! We usually start our jams earlier, but to accommodate Mitch's schedule on Tuesday we are starting later and will be streaming from 317 Community Music Center in Yarmouth, Maine.
All sessions are free, but tips are very much appreciated. Tipjar: Venmo @fiddlerpam (phone -7296) paypal.me/whippoorwillmusic or reach out to Pam at fiddlerpam@gmail.com
Bowdoin House Concert Series
The Bowdoin House Concert Series occurs every now and then. In the last couple years, Pam has hosted Kevin Burke, Ten Strings and a Goatskin, Lisa Ornstein and Le Bruit Court dans la Ville, Grainne Hambly & Billy Jackson, David Greely, Raz de Maree, the Nordic Fiddler's Bloc, Andrea Beaton, Keith Murphy and Becky Tracy, Wendy MacIsaac and Mac Morin, Jeremiah McLane and Tim Cummings, Alex Kehler & Nicholas Williams, Brendan Taaffe, Anita MacDonald and Ben Miller, Pete Sutherland, more.... The concert is almost always preceded by a jam session and potluck, and often socializing continues afterwards. It's always TOP talent and always a great time!! Reservations are encouraged for all concerts, to reserve a seat or for more info: Pam - pam@pamweeks.com, or call 207-666-3709
2022 House Concert Series Update:
We are not currently offering house concerts due to the pandemic. However, you can join us every Tuesday evening at 6:45pm on Pam's FaceBook page for our weekly mini-concert/intermediate jam session - all instruments welcome! Easy tunes are played up to speed, more challenging ones are played at a lazy pace at first, then a little faster. Requests encouraged! All sessions are free, but tips are very much appreciated. 
Tipjar: Venmo @fiddlerpam (phone -7296) or paypal.me/whippoorwillmusic 
(if you don't see the jam right away as a top post, click on "Videos" and it should come right up)
Cindy Kallet and Grey Larsen, each well-known and loved for their decades of music making, have spent well over a decade in a joyful musical collaboration. Cindy is a superb singer, guitarist, songwriter, and multi-instrumentalist. Grey is one of America's finest players of the Irish flute and tin whistle, as well as an accomplished singer and concertina, fiddle, piano and harmonium player. As composers each contributes to the unique tapestry of contemporary folk and world music as it flourishes in the US today. Together, they weave songs and tunes of vibrant color and rich texture. Their music is remarkable for its vibrant colors and intricate textures, rewarding the listener with a level of nuance and craftsmanship often compared to that of fine chamber music. The duo's repertoire includes Cindy's sparkling original songs, distinctive settings of traditional Irish music, Scandinavian fiddle duets, old-time fiddle and guitar tunes from southern Indiana, and new music that Cindy and Grey are inventing together. There is plenty of variety and breadth of musical territory here, all deeply rooted in folk traditions, and interwoven with the renaissance and baroque counterpoint in which both Cindy and Grey, coincidentally, were immersed while growing up. Included are vocal duets, guitar, Irish flute, Irish alto flute, tin whistle, concertina, harmonium, and duet fiddling, and plenty of stories that put the music into a personal context. In 2007, they released their widely-praised first duo recording, Cross the Water. In 2010, they produced a single, and YouTube video, Back When We Were All Machines, a playful, humorous look at the serious subject of our modern paradox of human connection and disconnection. In 2015, they released their second full-length CD, Welcome Day. 
more info: http://kalletlarsen.com/about/cindy-kallet-grey-larsen/ 
Sunday, December 8, 2019 
T-Acadie presents a holiday concert to benefit local food pantry. Jam session 5PM, followed by potluck dinner (bring a dish or a beverage). Concert 7-9PM Suggested Donation $20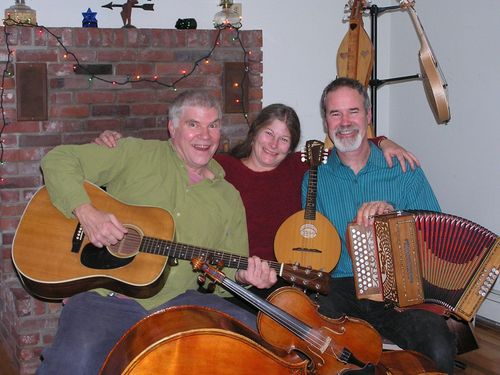 Tonight.. T-Acadie presents: "Lesser Known Gems of the Holiday Season" a holiday concert at the home of Pam Weeks! Pam Jim and Bill in concert singing and playing "rare" holiday and seasonal songs and tunes on fiddle, banjo, button accordion, mountain dulcimer, mandolin, cello, hammered dulcimer, guitar, bass, a cappella vocals, probably more.. Quebecois, Cajun, Celtic, Old English, southern Appalachian, local Maine songs, Gospel, Doo Wop, Sea Songs, more!!!  This concert will follow the normal house concert format: gathering together and possible jam session at 5PM, followed by pot luck (bring a dish or beverage). Concert 7-9PM. Suggested donation $20 but more or less is OK. All proceeds go to the Mid Coast Hunger Prevention Program in Brunswick, Maine. Do what you can but please come and join the party and BRING A FRIEND!! reservations suggested but no one will be turned away!.
 Reservations are encouraged for all concerts, to reserve a seat or for more info: pam@pamweeks.com, or call 207-666-3709